Stockholm Pogrom: Crowd of Masked Men Hunt and Beat Up Non-Swedes
The crowd of some 40 to 50 people went on a violent spree on Friday night at around 9 p.m. local time in and around the Swedish capital's main railroad station, according to the Aftonbladet daily. They were beating up anyone who didn't look like ethnic Swede. The attackers were wearing black balaclavas and armbands, the video obtained by the tabloid showed.
Stockholm pogrom: Crowd of masked men hunt and beat up non-Swedes — RT News
Dozens of masked man went on an anti-immigrant rampage in Stockholm in an apparent retaliation for the stabbing death of a young Swedish woman at a refugee center earlier this week, local media reported.
Source: www.rt.com/news/330697-sweden-immigrant-pogrom-stockholm/
While the kneel and Surrender EU Leaders Said…
EU Leaders Claim No Link Between Cologne Sex Attacks and Migrant Crisis
The New Year's Eve attacks were perpetrated "almost exclusively" by migrant men of Arabic and North African descent. As Breitbart London previously reported they followed the model of similar 'taharrush' incidents in the Arab world where large groups of men attack and even rape women at major events.
Nevertheless, according to the First Vice-President of the Commission, Frans Timmermans (pictured right), the Cologne sex attacks were nothing more than "a matter of public order" and were not in fact "related to the refugee crisis." As such the role of the Commission is that of "sounding the voice of reason to defuse tensions and counter populist rhetoric" because of the "xenophobic reactions" prompted by the events. Specifically, he calls for:
"…the unconditional rejection of false associations between certain criminal acts, such as the attacks on women in Cologne on New Year's Eve, and the mass influx of refugees."
EU Leaders Claim No Link Between Cologne Sex Attacks And Migrant Crisis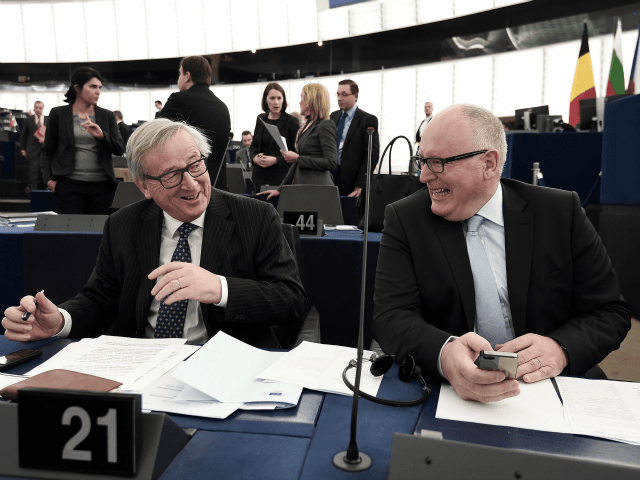 The European Commission has declared the Cologne sex attacks have nothing to do with Europe's ongoing migrant crisis, rejecting such "false associations".
Source: www.breitbart.com/london/2016/01/30/eu-leaders-claim-no-link-cologne-sex-attacks-migrant-crisis/